StretchASU

Resident Ass Mullet




Joined: 03 Sep 2006

Posts: 4251




Figured I would bump this up and update it. I've been working my ass off and now preparing for this move so I haven't worked on the Cummins or updated this like I had hoped. That should all change once I get settled into the new job and can make some time for working on my junk again.

Robbie is still driving the sh&%t out of the 7.3 truck. The life spent in Boone is showing its effects on the cab corners and the rear wheel wells. He has chased some issues with the front axle and a shop that he paid to pretty much rebuild it from hub to hub. Corners were cut and there is going to be some warranty work done. But the truck still runs like a raped ape.

He built a pretty badass 1.5 DOM ladder rack for it a few years ago.



I've slowly been chipping away at some stuff I have wanted to do on the Cummins since acquiring it from Daylon as well as fixed a few things that came up. He had this thing pretty well sorted out with the majority of the usual 24V fixes already done. Injection pump, trans, lift pump, gauges, Lukes Link goodies etc. Its been a good base to slowly build off of. I hope to just polish this old turd some more.

First was the night I brought it home, made it about 10 miles and the AirDog sh&%t the bed. Popped the fuse. Luckily Daylon had another motor and he was nice enough to come down to meet me in Butner and swap that sucker out for me. About 11k miles later the same thing happened. Warranty was still good and they mailed a new motor to my office while I was in Chicago for work. Swapped it out in about 30 minutes and so far so good. Cracked both motors open, same deal. Diesel getting past the seals and shorting the motor. We will see how long this one lasts. I'm probably going to call in a month and "warranty" one of the two dead ones I now have in order to have a spare in the truck at all times. Don't feel like killing that nice Injection Pump that Daylon put on the truck.

Inside both of the motors: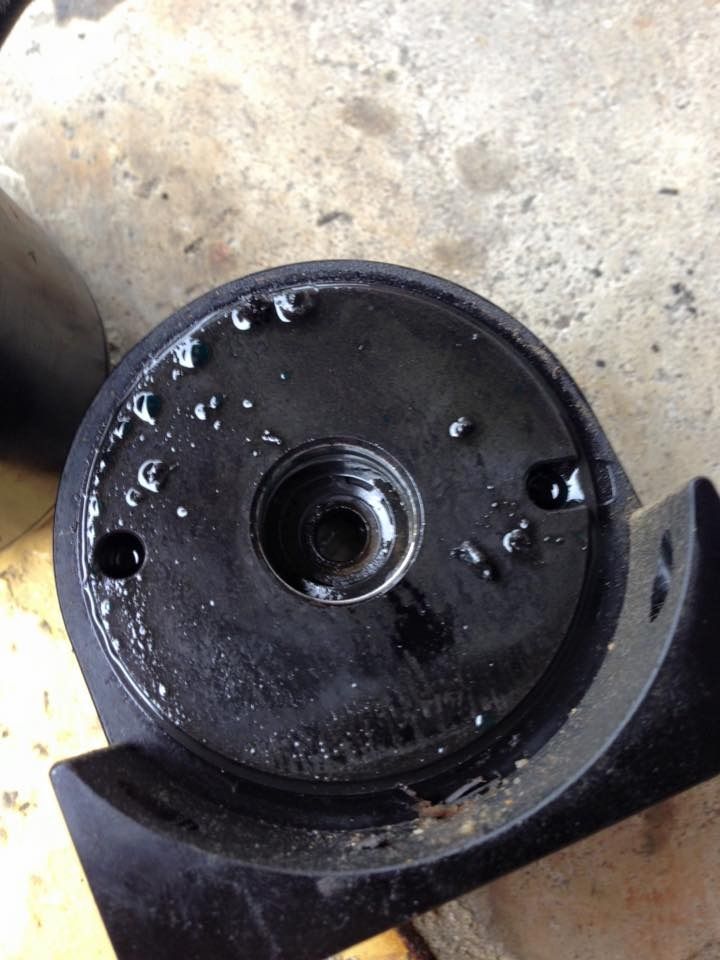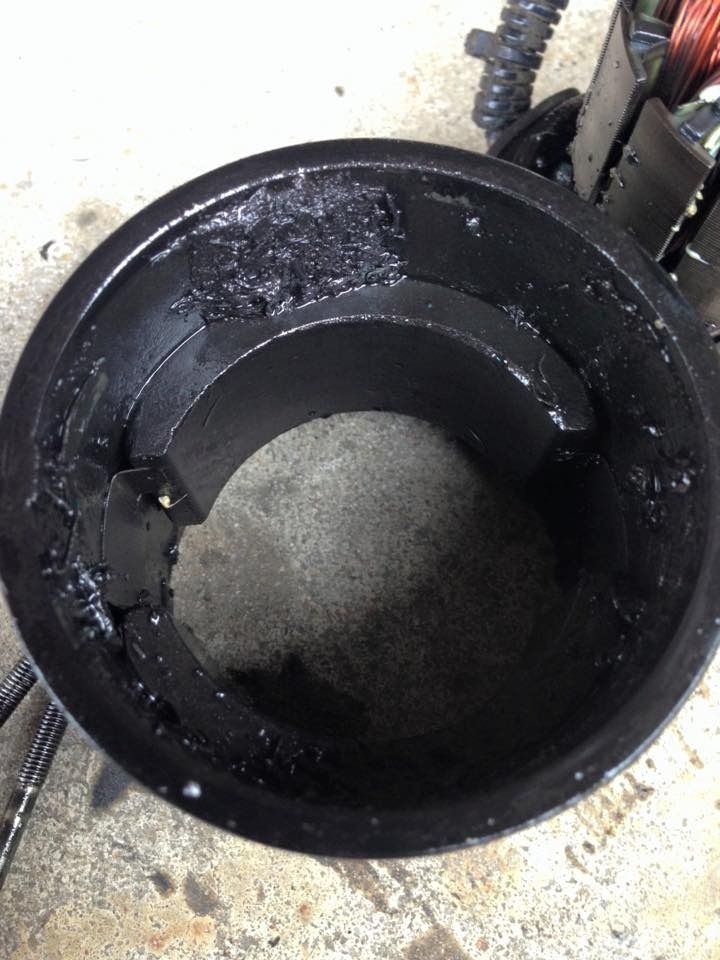 Sometime back in February I had a freak failure of the #5 injector feed tube. It vibrated apart right at the fitting going into the head. Pulled off on my exit and the truck was shaking horribly (obviously missing). Cummins Atlantic in GSO luckily had one in stock and sent it my way and I was up and running a few days later.

Even when Daylon had the truck he had said it always pulled to the left under braking. Two sets of calipers warrantied, two sets of pads (cheap as sh&%t for this truck) and adjusting the rear drums properly and it STILL did this mess. Alignment checked etc. I've finally chased this down to a bad line in the right front. Well I jacked it up and had Robbie hold the brakes. The drivers front clinches down just fine, the passenger front does not hold as well. All I can figure at this point is that the inner liner of the brake line is failing and basically acting as a check valve. Sometimes it will allow enough pressure to close both front calipers evenly, other times, not so much. Going to swap these out in the coming weeks.

Intercooler boot down at the passenger lower joint likes to blow off during long runs at 25+ PSI aka towing in the mountains. I've pulled and inspected all of these things, no rips or tears or overly stretched boots. And I blew it off 3x going to Harlan and back in Feb. This was just annoying as sh&%t. Because new boots are a couple hundred bucks, I am going to use an old trick I found on CumminsForum first before I order boots. New clamps and hair spray to "glue" the existing boots to the charge pipes.